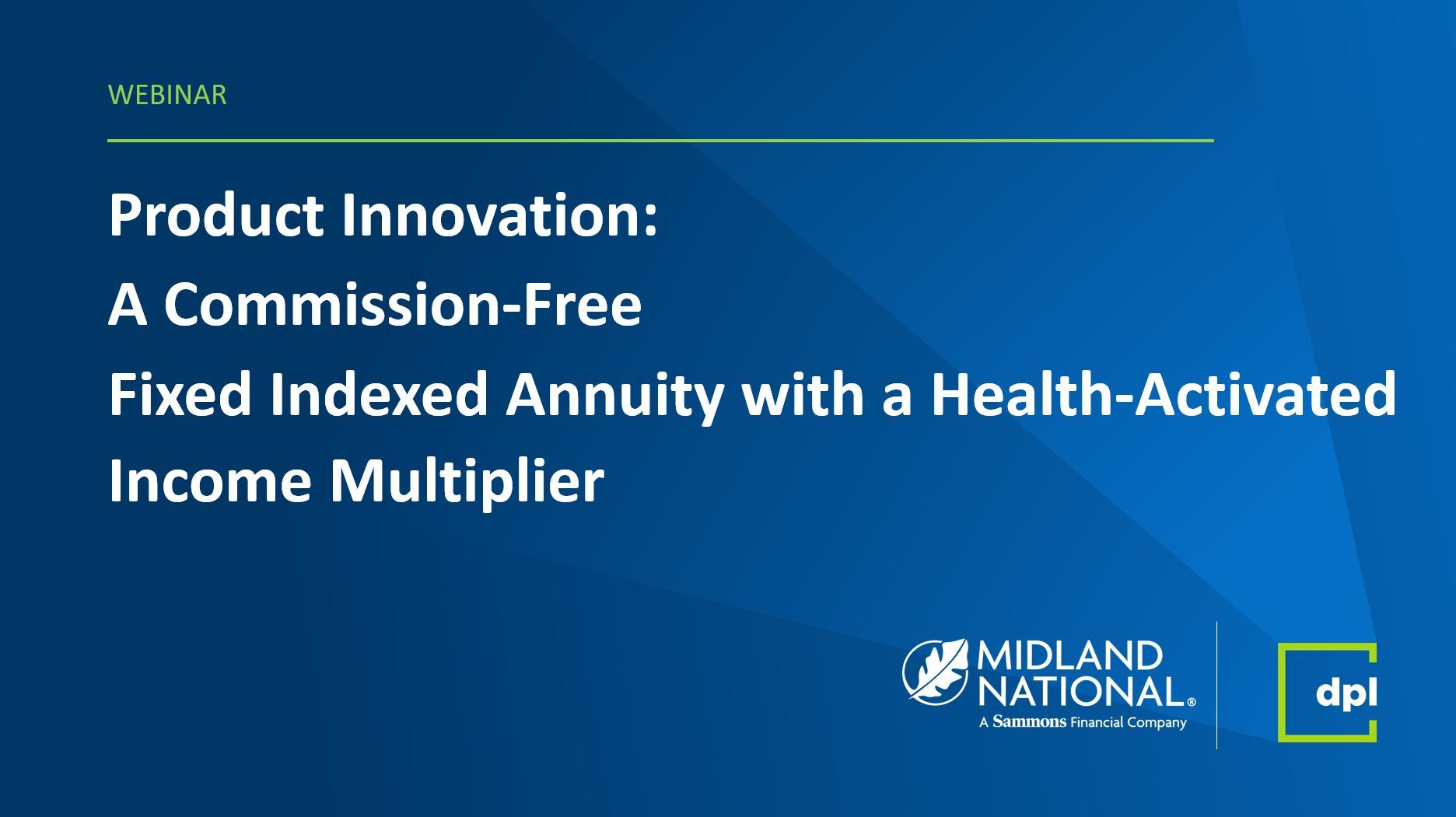 DPL Financial Partners Founder & CEO David Lau and leaders from Midland National's RIA Strategy and Product Development Divisions discuss Capital Income, the newest Commission-Free fixed indexed annuity (FIA) addition to DPL's platform. Featuring a first-of-its-kind income rider with a health-activated income multiplier, this FIA is designed to provide guaranteed retirement income with an option to increase income in the event an unexpected health event impacts their ability to care for themselves.  
During this carrier partner webinar, you'll learn:
How Capital Income and its income rider with the health-activated income multiplier offers a guaranteed level of income, as well as the ability to double the annuity's income rider payments for up to five years should your client experience an adverse health event
Product details and technology integrations within planning and reporting software
How RIAs can leverage Capital Income in a holistic financial plan
Founder & CEO, DPL Financial Partners
David Lau is Founder and CEO of DPL Financial Partners, the leading RIA insurance network that brings low-cost, commission-free insurance solutions from a variety of the nation's top carriers to RIA practices.
President of Sammons® Independent Annuity Group
Rob TeKolste is president of Sammons® Independent Annuity Group, a division of Sammons® Financial, Inc., responsible for overall business strategy and leadership. Rob leads the fixed annuity distribution through independent agent channels, such as independent agents, Independent Marketing Organizations, and Registered Investment Advisors.
Senior Vice President, Product Development
Rhonda Elming is Senior Vice President, Product Development and is responsible for North American's annuity product strategy including product development and product profitability.  Rhonda has 30 years of experience in the insurance industry and has been developing indexed life insurance and annuity products since their inception.
Understanding and Utilizing Midland National's Capital Income FIA with Health- Activated Income Rider
DPL Financial Partners Founder & CEO David Lau and leaders from Midland National's RIA Strategy and Product Development Divisions discuss Capital Income, the newest Commission-Free fixed indexed annuity (FIA) addition to DPL's platform. Featuring a first-of-its-kind income rider with a health-activated income multiplier, this FIA is designed to provide guaranteed retirement income with an option to increase income in the event an unexpected health event impacts their