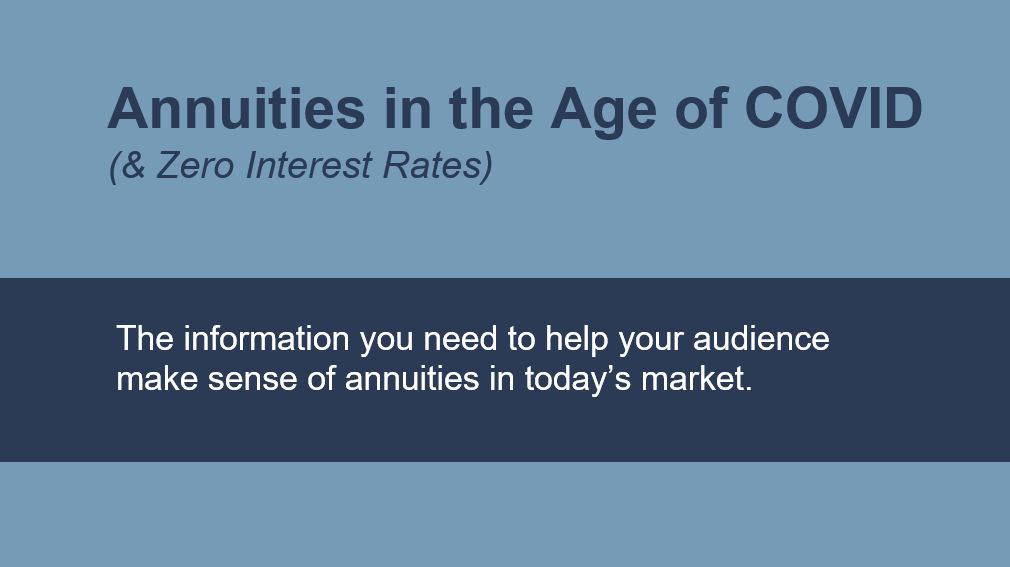 As interest rates remain near zero and the markets continue to swing, the outlook for investors nearing retirement or recently retired is anything but certain. Annuities are increasingly being promoted as a go-to solution to mitigate risk in an investment portfolio and provide a secure stream of retirement income. Hear from a panel of financial advisors and Morningstar's head of retirement research about how annuities are being used to meet investors' needs in the age of COVID:
How annuities are changing and what your readers need to know
Ways annuities are being used to add certainty to retirement portfolios
How investors are thinking about annuities for asset protection and retirement income
Head of Retirement Research, Morningstar Investment Management
David M. Blanchett, PhD, CFA, CFP® is head of retirement research for Morningstar Investment Management LLC. In this role, he helps develop and maintain methodologies relating to wealth forecasting, general financial planning, automated investment selection, and portfolio assignment for Morningstar Investment Management LLC. Prior to joining Morningstar, he was the Director of Consulting and Investment Research for the Retirement Plan Consulting Group at Unified Trust Company.
Founder & CEO, DPL Financial Partners
David Lau is the Founder and Chief Executive Officer of DPL Financial Partners, a firm focused on the distribution of financial products geared toward the Registered Investment Advisor (RIA) and fee-based advisory channels. Prior to founding DPL in 2014, David served as COO and architect of Jefferson National, a leading insurance carrier focused on RIAs and fee-based advisors. Earlier in his career, David helped build E*Trade Bank, and its predecessor Telebank, which was the nation's first internet bank.
Senior Financial Advisor, Lantz Financial LLC
Dan Rohlfing, CFP®, is a Senior Financial Advisor with the Lantz Financial Team in Naperville, Illinois. The Lantz Team is a comprehensive financial planning and investment advisory firm with a focus on developing retirement income strategies for clients. Dan has been with the Lantz team since 2006 and has been working with clients for nearly 20 years developing customized plans and finding solutions to help them live the best life they can.
Financial Planner, Advisor and Operations Manager at DHR Investment Counsel
Shannon Stone, a CFP® serves clients for DHR Investment Counsel in Oakland, California. In that work, Shannon manages investment portfolios and places annuities as part of "longevity portfolio" planning. Previously certified as a Performance and Family Coach, Shannon's passion is working with people, whether it's through advising and financial planning or creating high touch and memorable client experiences. Her value draws on many years of experience in investment advisory work including wire houses, a municipal bond firm and RIAs.
Financial Planner, Branning Wealth Management LLC
Jason Branning is a CFP® practitioner specializing in retirement planning at Branning Wealth Management, LLC. Additionally, Jason's articles Modern Retirement Theory and Using a Hierarchy of Funds to Reach Client Goals (both with M. Ray Grubbs, Ph.D.) have been published in The Journal of Financial Planning's Retirement Income Special Report, as well as other works on retirement planning at AdvisorPerspectives. Modern Retirement Theory content appears in the Retirement Management Analyst and the Retirement Income Certified Professional® curricula. Branning was appointed by the Governor to serve on the College Savings Mississippi Board, which oversees the state's 529 plans.
Annuities in the Age of COVID (& Zero Interest Rates)
As interest rates remain near zero and the markets continue to swing, the outlook for investors nearing retirement or recently retired is anything but certain. Annuities are increasingly being promoted as a go-to solution to mitigate risk in an investment portfolio and provide a secure stream of retirement income. Hear from a panel of financial advisors and Morningstar's head of retirement research about how annuities are being used to meet investors' needs in the age of COVID: